MICHAEL OBRIEN
EXECUTIVE LEADERSHIP COACH
CHIEF SHIFT OFFICER
IMPACT-DRIVEN SPEAKER
BEST-SELLING AUTHOR OF MY LAST BAD DAY SHIFT
Michael's unique mixture of "in the trenches" executive leadership experience and inspirational Last Bad Day story shifted his perspective on what is possible at work and in life. As a corporate coach, he elevates successful leaders by helping them prevent bad moments from turning into bad days.
Michael has shared his story with TEDx, ABC and companies like Pfizer, Genentech, the Healthcare Businesswomen's Association, Brother International, Novartis, J & J and many others. In addition, he's written two best-selling books,Shift: Creating Better Tomorrows and My Last Bad Day Shift.
Helping 1 Million People Have Their Last Bad Day
Before launching his coaching career, Michael experienced a life-altering event that shattered his worldview. On July 11th, 2001, he was struck head-on by a speeding SUV while out on a training bike ride. He considers his Last Bad Day one of his
best days because it helped him shift his perspective in almost every aspect of his life and career.
Since then, Michael is on a quest to help 1 million people have their Last Bad Day, too.
Michael is a strong male ally for women's leadership and empowerment causes. He's the first male president of a chapter of the Healthcare Businesswomen's Association, and gives all the proceeds of his best- selling memoir, Shift, to World Bicycle Relief. They help girls conquer the challenge of distance by providing mobility and access to education, healthcare and the market.
ACCLAIM FOR
MY LAST BAD DAY SHIFT
WHAT READERS ARE SAYING:
"This book is the 'EASY' button for creating a better life not 'someday,' but TODAY!...Everything you need to live your best life already resides within you. This book is the last number of the combination lock that will open your mind to its full potential. Bad moments become better by choice. Choose to 'shift' your thoughts, read it, do the exercises and give yourself the gift of growth."
—Bobby Kountz
"Being an entrepreneur is challenging. It's common to have a bad moment or two during the day. Michael's guidance is valuable in helping leaders move past these bad moments and toward making a difference."
—Ramon Ray, Author of Celebrity CEO: How Entrepreneurs Can Thrive by Building Community and a Strong Personal Brand
Michael's experience as a corporate executive translates into a simple message with a profound impact: stop letting bad moments turn into bad days.
His Last Bad Day talk is a raw, honest story about what happens when we chase happiness.
He reminds us to pause, breathe and reflect (PBR), when life feels too overwhelming. Allowing a bad moment to turn into a bad day means we aren't living our one life wisely.
This engaging and inspirational discussion is sure to motivate audiences to action and help them discover practical ways to have their Last Bad Day, too.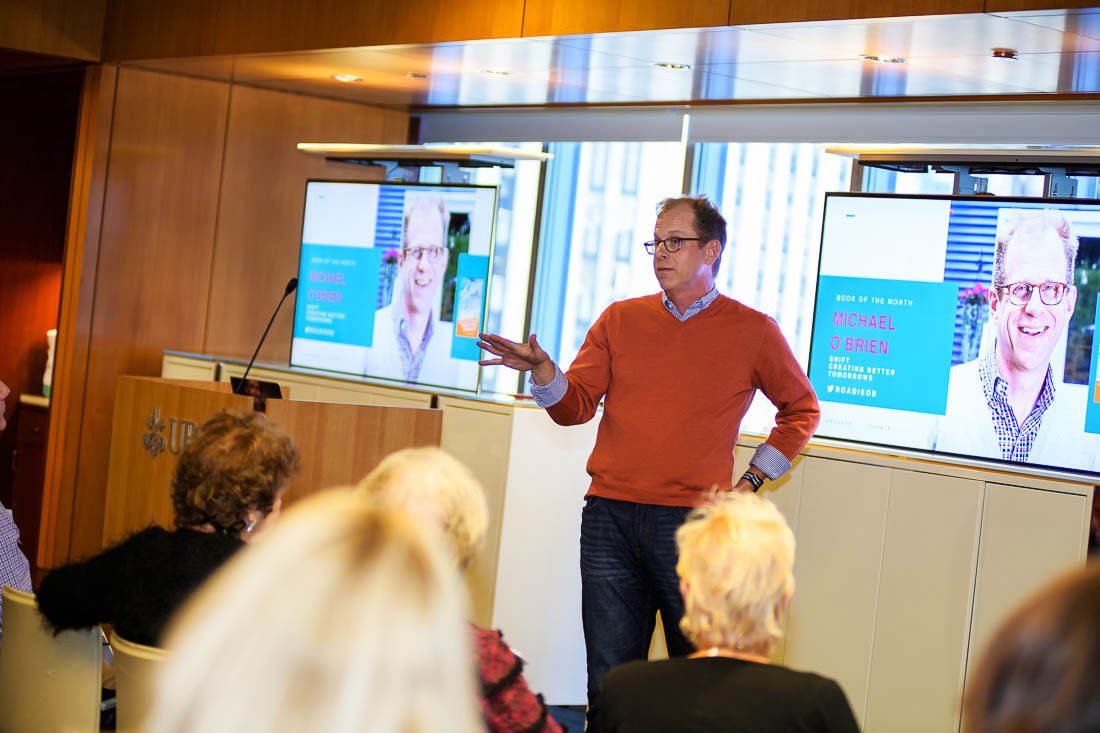 POPULAR SPEAKING TOPICS
Preventing Bad Moments from Turning into Bad Days

Leading with C.A.R.E. (Connection, Awareness, Resilience and Empathy)

Building a Trusting Culture: Who's in Your Peloton?

How to Become a Male Ally for Diversity, Inclusion and Belonging

How to Shift from Drained to Driven by Managing Your Energy

Slaying the Negative Narrative That's Holding You Back
Michael's compelling TEDx Talk, "We Go Where Our Eyes Go," discusses his near-death experience and the power of perspective. To learn more, listen to him share the story about his cycling accident and how it sparked a journey where bad moments stopped turning into bad days.
POTENTIAL DISCUSSION TOPICS:
Change | Motivation | Inspiration | Attitude Perspective | Leadership | Culture Building | Gender Parity/Equality
Michael is available for:
• Speaking engagements
• Interviews
• Executive leadership coaching
Booking Information:
201-697-6820
michael@pelotoncc.net www.michaelobrienshift.com